Katie Lambert Boone
Katie, or "KLB," grew up in Ireland in an equestrian family riding green ponies, young jumpers, field hunters, and galloping race horses.  At age 16, she won a class at the Dublin International Horse Show and her catch riding career took off.  After graduating high school, she moved to England to continue her training and then onto South Africa to further develop her riding resume.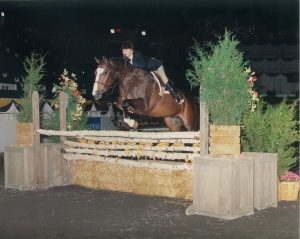 After moving to Houston, she established Irish Day Farm in 1983.  In the age of Thoroughbreds, she and her husband Hans imported a 5 year old Dutch Warmblood and named him Prince Charming (pictured left at Indoors).  She showed him as a young horse all the way through the regular conformation hunters, earning tri-colors on the prestigious "Indoors" circuit and at the Devon Horseshow.  Prince Charming was sold and later received a lifetime achievement award at Capital Challenge at age 18.  
Katie has not only received championships at the top horse shows in the United States, but she has also traveled with the United States Show Jumping team throughout Europe as a grounds person.  Katie's experience on the ground as well as on the horse is evidenced by the results of the riders under her tutelage.  
Her love of training for both horse and rider is represented by the many year end state, zone and national awards in the hunters, jumpers and equitation rings.  Some of Katie's greatest success stories include those riders who she has trained from the Pony Ring into the Grand Prix ring during their junior years while living at home.  These riders have gone on to do great things after high school, including multiple riders receiving college scholarships for their riding.  Katie takes great pride in knowing that so many of her students were not only successful with their horsemanship skills in competition, but have also gone on to graduate from top universities including many Ivy League establishments.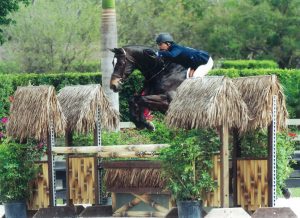 Katie utilizes both contacts from her time living in Europe and also friendships from recent years to travel across the Atlantic and purchase young horses for both investments and for clients.  Katie specializes in buying and training young horses, often which she owns herself.  In recent years, she has owned and developed a USEF Reserve Champion Horse of the Year in the 1st Year Green Hunter Division (pictured right in Wellington, FL), and also multiple winners of  USHJA National and International Hunter Derbies. 
---
Hans Jurgen Boone
Hans was born in Nunspeet, Gelderland, The Netherlands.  At age 12 he trained with Bob Greven, developing skills in dressage and jumping.   At age 16, he achieved "professional status" through "proven in sport" in dressage and jumping.
Hans then apprenticed with Baron van Heeckeren van Brandenburg, former head of the Cavalry for Border Security for Juliana, Queen of the Netherlands, further advancing his knowledge and experience in all aspects of horsemanship.  Next, he apprenticed with Ari Schram, one of the top dressage riders in The Netherlands and Europe, also a renowned international dressage judge.  In Germany, Hans rode for the legendary dressage Riding Master, Georg Theodorescu, who represented his native country, Romania, in the 1956 Olympics in Stockholm, and also served as Coach for the US Dressage Team in the 1984 Olympic Games in Los Angeles.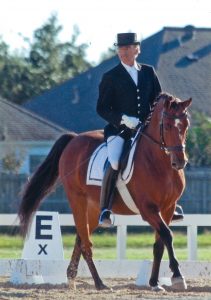 Currently, Hans is co-owner with his wife, Katie Lambert Boone, of Irish Day Farm.  He is head Trainer and Coach of classical dressage and a successful importer of selective warmbloods for competition.  His achievements include United States Dressage Federation (USDF) Bronze, Silver and Gold Medals, and he has trained and coached 23 horse and rider pairs to FEI Level Competitions, earning them 19 USDF Silver Medals and 4 USDF Gold Medals.  
Hans is an invaluable member of the Irish Day Farm team.  He not only owns the property, but he operates, repairs and manages every aspect of the farm from the trailers and tractors to the day-to-day farm maintenance.  He is truly a "people-person," and is the first to stop what he is doing and assist anybody with a problem, check on a horse or just chat and tell a quick joke.